This tag was created by Kirsty and the Cat Read. I found this enchanting tag at Kyera's Library. Make sure to go over to her blog and check her answer out and have a look around. I promise you will love it as much as I do.
TALE AS OLD AS TIME: A POPULAR THEME, TROPE OR SETTING YOU WILL NEVER GET BORED OF READING:
I love books where the main characters are thrown into the world of magic. I love being able to experience the world though their eyes because we are learning about this world together.
Belle: A Book You Bought For Its Beautiful Cover That's Just As Beautiful On The Inside Too.
Language of Thorns
Language of Thorns was a book I bought because I thought the cover would look amazing on my shelf, and it didn't hurt that Leigh Bardugo wrote it. This wonderful book is a collection of short stories that were written in the Grisha World. They are beautifully written too.
Beast: A Book That You Didn't Expect Much From But Pleasantly Surprised You
Forest of a Thousand Lanterns
 I didn't really expect to like this book going into it. I had heard mix things about it and I wasn't really drawn to the description. I am glad I did give it a try because this book was a wonderful treat to read.
Gaston: A Book Everyone Loves That You Don't
Three Dark Crowns
Please don't kill me but I didn't love this book at all. I like the concept of the book and the plot twists at the end of the book, just not the whole book in general. I know a lot of people love this book and I am going to read the second book to see where that plot twist will lead. Maybe there is hope!
LeFou: A Loyal Sidekick You Can't Help But Love More Than Their Counterpart.
Iko from Lunar Chronicles 
I loved Iko and she pretty much stole the scenes in every single book in this series. She was Sassy √, Vain √, Hero √, Told it like it was √ and Loyal √. I want a friend like Iko!
Mrs. Potts, Chip, Lumiere, and Cogsworth: A Book That Helped You Through a Difficult Time or Taught You Something Valuable.
A Court of Mist and Fury
I swear I didn't just pick this book because of Rhysand maybe a little. I loved this book because of the struggle that Feyre goes through as she becomes lost, and is being controlled by Tamlin a man whom she loves. She has to find a way to say "Hey, I am my own person and I can stand on my own." She has to make her own choice and find her own path out of the darkness and accept the choices she has made. Then you have Mor who despite all the horrible things that has happen to her manages to keep the light inside of her burning and find happiness with people who love her for who she is.
Something There: A Book or Series You Weren't Into At First But Picked up Towards the End
Falling Kingdoms
The first book in this series was okay, but not great. I did keep reading and the books have pick up the speed with each book. The final book comes out in February and I can't wait to see how it will end.
Be Our Guest: A Fictional Character You'd Love to Have Over For Dinner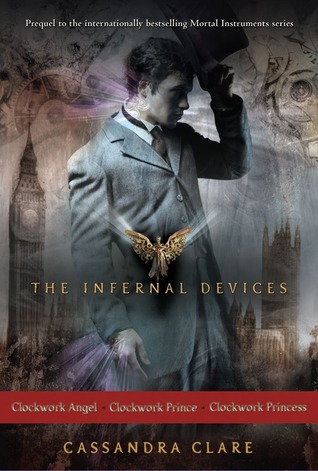 Will Herondale
I want Will to comes to dinner so bad. He can quote poetry at me and make me laugh with his razor-sharp sarcasm. I could stare dreamily at him for hours.What a wonderful dream.
I Tag
Plus anyone else who wants to tag themselves, you are more than welcome too!
Also check out these lovely ladies blogs too!
FOLLOW ME AT: