Another month has come and bit the dust. 
This was actually a horrible month for me personally. It started off with my 2 year-old girl getting the Flu type A, B and RSV which was horrible. Then after I get her better I am in the bed for a week with it. So needless to say I am behind horribly on my reading list.
On a plus side I did manage to get a little done this month and I am currently in the process of coming up with some new post for February.
On Thursday's starting next week I will be doing a post of my current TV show I am in the process of watch. Let face it when I am not reading my eyes are glued to my TV binge watching Netflix which is the leading cause of failed reading goals just so you know.
So I decided to do reviews and let you know what I think of certain episodes. I may also do shows I want to watch as well who knows.
On Sunday's I will be doing a Spoiler Sunday post where I will discuss a book that I have read or are currently reading then discuss my uncensored thoughts on the book. The people who have read the book can join in and those who haven't well there will be spoilers so you can read the book and come back to discuss.
Currently Reading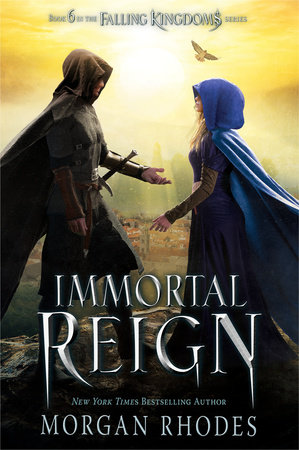 I was lucky enough to receive the final copy of Immortal Reign from the wonderful people from Penguin Teen/ Razorbill. Immortal Reign is the final book in the Falling Kingdom Series and is set to release February 6. I would advise EVERYONE to pre-order this book because so far it's so freaking good and I am not even done!
January Book Reviews
Pretty Dead Girls by Monica Murphy  4.5/5 Stars
Glass Sword By Victoria Aveyard Review  2.5/5 Stars
Mad Magic By Nicole Conway 4/5 Stars
Raven Boys 3/5 Stars
A Darker Shade of Magic By V.E Schwab  5/5 Stars
Gathering Darkness By Morgan Rhodes 4/5 Stars
Falling Kingdoms Blog Tour: Frozen Tides by Morgan Rhodes 4.5/5 Stars
Keeper By Kim Chance 5/5 Stars
My Favorite Read for January
Furyborn by Claire Legrand lived up to the hype and went to the moon and beyond. I LOVE this book and everything about it. I am so happy that SourceFire sent me an early copy because I have never experience anything like this book before. I will be singing it's praise forever. PRE-ORDER this book because the hype didn't lie. I will do a review on it closer to Release Date which is May 22, 2018.
Add on Goodreads and also the cover updated as well! It's BEAUTIFUL!
Book Tags/ Discussion/ Other
Discussion Time: The Book Troupes I Strongly Dislike
TTT: Top Ten Books I Meant To Read In 2017 But Didn't Get To
Most Anticipated Reads of 2018
Books I'll Probably Never Read Tag
Bookshelf Tour 2018 *I did my first bookshelf tour this month!*
Book Blogger Test
Thank you all for the wonderful comments and likes on my post it means the world to me. You guys made my crappy month less crappy! Now on to February and hopefully a better reading month.
What books did you read this month?
What was your favorite read?
Have you read any of the books above? What did you think of them?
Let me know in the comments below!