Top Ten Tuesday was created by The Broke and the Bookish in June of 2010 and was moved to That Artsy Reader Girl in January of 2018. It was born of a love of lists, a love of books, and a desire to bring bookish friends together.
---
It has been forever since I have done a Top Ten Tuesday post and I have to say I have missed it.  This topic sounds really fun so let's get to it shall we.
This weeks topic: Books That Surprised Me (in a good or bad way)
1.) Children of Blood and Bone by Tomi Adeyemi
This book was absolutely amazing. It had so much hype surrounding it and lets face it most books can't live up to that hype. Children of Blood and Bone went above and beyond that hype. Believe the hype! (To see my review click here)
2.) Batman: Nightwalker by Marie Lu
Marie Lu's DC Icon Batman: Nightwalker blew my mind. I will be the first person to tell you I was never really a fan of Batman or understood what was so special about him. After reading this book I have a new outlook on Batman and can say I am a fan of this version of Batman. Marie is and always will be the Queen of world-building!
3.) A Darker Shade of Magic by V.E Schwab
I am not a big fan of time-travel books but A Darker Shade of Magic made me eat those words big time. I was surprised by this world and the detailed magic. The time-traveling aspect was so easy to understand and made the story so freaking interesting!
4.) Glass Sword By Victoria Aveyard
I was surprised how much this book didn't live up to the first book Red Queen. I loved Red Queen so much and this book fell flat for me. I  almost stopped reading it twice.
5.) Warcross By Marie Lu
The ending of this book absolutely surprised the crap out of me! I remember screaming "WHAT" really loud and waking everyone in the house at 3 am. I didn't see that ending coming and need answers now Marie Lu!
6.) Three Dark Crowns by Kendra Blake
This is another book where the ending was shocking and made me question everything I read! Now I wasn't a huge fan of this book, but that ending I didn't see coming at all. It was brutal! So needless to say I need to read the next book soon.
7.) Allegiant by Veronica Roth
Divergent was one of my favorite books I read but when it came the ending of the book's series needless to say I was shocked! I don't think I have ever read a book with that kind of ending. If you have read Allegiant you know the ending I am talking about. It pretty much made me dislike the series as a whole.
8.) A Forest of a Thousand Lanterns by Julie Dao
I was shocked by how much I loved this book to be honest. Let's face it there are a lot of retelling books out there but based on the Evil Queen, not so much. I was worried that it wouldn't be able to delivered and I can't honestly say it delivered.
9.) Wintersong by Jae S. Jones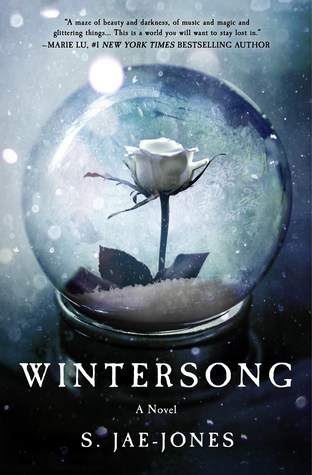 Wintersong was a book that everyone seemed to love and I was recommended this book several times. So I finally decided to give it a try. I usually love fae stories but surprisingly this was not one of them. This book was just not my kind of book.
10.) Tower of Dawn By Sarah J. Maas
Tower of Dawn was a book I was dreading so bad because I have always hated Chaol since Throne of Glass. By Queen of Shadows I wanted to throw him into the Avery! So when I finally decided to read this book I was blown away! I fell in love with Chaol and was forced to take back all the horrible thought and words I said about him. This became my second favorite book of the series!
Did any of the books above surpise you? Why?
What other books surpised you?
Let me know in the comments below!