Top Ten Tuesday was created by The Broke and the Bookish in June of 2010 and was moved to That Artsy Reader Girl in January of 2018. It was born of a love of lists, a love of books, and a desire to bring bookish friends together.
---
This Weeks Topic is:
Books On My Spring TBR
God this going to be hard trying to narrow down my TBR but I will give it a try!
1.)  Harry Potter books 5-7
I am hoping to be able to FINALLY finish this series and feel complete in life. I am almost there only 3 more books to go guys!
2.)  To Kill A Kingdom by Alexandra Christo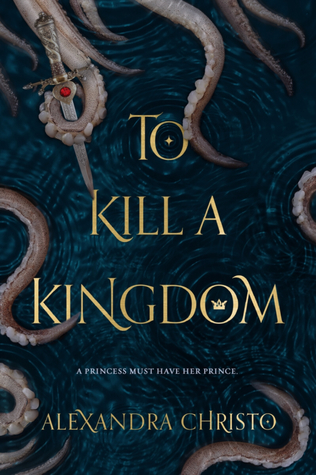 I need to read this! I have heard great things about it and it's based after a retelling of the little mermaid! I was in love with the Little Mermaid as a kid (still am).
3.) Wonder Woman by Leigh Bardugo
I have been saying I was going to read this book forever and still haven't read it. Surprising considering Wonder Woman is my favorite DC character and Leigh Bardugo is one of my favorite authors.
4.) Strange the Dreamer by Laini Taylor
I just recently became a fan of Laini Taylor so when I received this book for Christmas I was over the moon! I can't wait to read this book and experience the world Laini creates.
5.) Caraval by Stephanie Garber
Another book that I somehow haven't read yet. I have heard mix reviews about this book so that was why I have been holding off, but I think I have finally talked myself into giving it a try.
6.) Truthwitch By Susan Dennard
Another popular book that I haven't read. This starting to look like a theme. I have heard the world and characters in this book will blow your mind. I enjoy books about witches and I have heard Truthwitch brings a new spin to it.
7.) Vengeance Road by Erin Bowman
I know next to nothing about this book and found it while searching for a book starting with a letter V for my AtoZ challenge. I was convinced to read this book by that beautiful cover to be honest.
8.) Miss Peregrine's Home for Peculiar Children by Ranson Riggs
I have been wanting to watch the movie and all book lovers out there know we must read the book first. So looks like it's time to pull this bad boy out.
9.) Zenith by Sasha Alsberg & Lindsay Cummings
Okay so I have heard mix review about this book. Most people either hate it or love it. I have to say I was excited until the review started coming in, but I still want to give it the benefit of the doubt. Plus, I need a Z for my A to Z challenge so I plan on giving it a try.
10.) A Court of Frost and Starlight by Sarah J Maas
(May 1, 2018)
Let me just say of course this book is on this list. Every since ACOWAR I been going out of mind wanting more from my precious babies! I need more and want more! This book will be in my hand May 1st one way or another!
What books are in your Spring TBR?
Have you read any of the books above? What did you think?
Let me know in the comments below!